PDE Calculations
4/24/2001
1. Flow control equations:
Axis-symmetric Euler equations + one species equation.
2. Numerical method: CE/SE method
3. Computational Domain: [0, 12.6ft] x [-4.6, 4.6ft]
(Because of symmetry, only up half of the domain is calculated)
4. Mesh: 290360 cells
(Inside and near thrust tube, the mesh is uniform; the others are stretching)
5. Boundary conditions:
-- On solid wall and symmetric line, reflective boundary condition is used.
-- On outlet and open surface, non-reflective boundary condition is used.
6. Flow conditions:
Chamber temperature T=510R; Chamber pressure P=15.0 Psia;
Equivalence ratio F=1.3; Freq.=60 Hz
C-J detonation velocity VC-J=6200ft/sec.; Pressure jump P2/P1=16.667.
Diameter of tube = 5inches, and its length =26.138inches.
7. Schematic of point locations where numerical data are taken.
Click cyan or blue semi-ball in following picture to get corresponding pressure or density curve.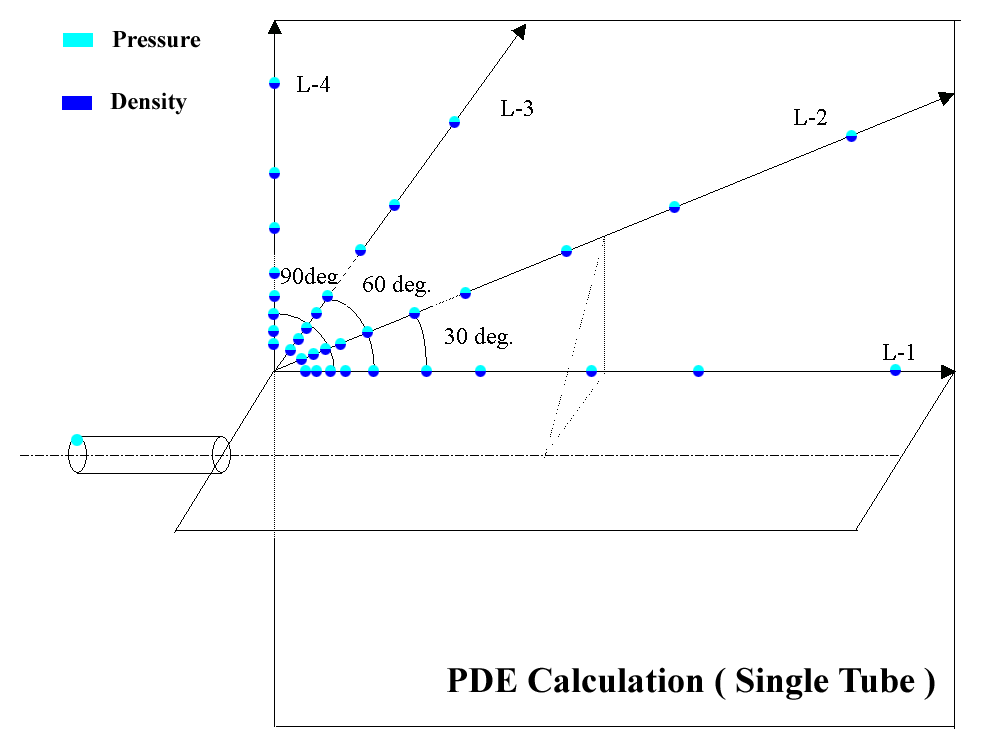 (1). Line L-1 is located 5 7/8 inches below the PDE centerline. There are ten points located on it, and their distances are (from the left side):
Point-1:
4

inches
Point-2:
5.66

inches
Point-3:
8 inches
Point-4:
11.32

inches
Point-5:
16

inches
Point-6:
22.64

inches
Point-7:
32 inches
Point-8:
45.28

inches
Point-9:
64 inches
Point-10:
90.56 inches
(2). L-2, L-3 and L-4 are the rotating ones of L-1 at 30o, 60o, and 90o respectively.
8. Numerical results (multi-cycle):
(1). Pressure history on left thrust tube wall.
(2). Pressures and densities of ten locations on the first line (q = 0o).
(3). Pressures and densities of ten locations on the second line (q = 30o).
(4). Pressures and densities of eight locations on the third line (q = 60o).
(5). Pressures and densities of seven locations on the fourth line (q = 90o).
9. Remarks:
For most of our results, there is only single huge peak (for one cycle), so the FFT is not very suitable processing tool for such data. More reasonable method should be used, e.g., wavelets.
Further works will be done in the future, including:
(1). Fine mesh (larger domain) will be used in our parallel computations.
(2). Multi-cycle calculations.
(3). Better data analysis method.
(4). Improve chemical reaction models.
(5). 3D calculations.